Festival Film Cannes ke-71 akhirnya berakhir pada tanggal 19 Mei 2018 lalu. Aktris asal Australia, Cate Blanchett, yang bertugas sebagai Presiden Juri, dan rekan-rekannya para anggota juri, seperti Kristen Stewart dan Léa Seydoux, telah memilih Shoplifters, film karya auteur asal Jepang, Hirokazu Kore-eda, sebagai pemenang Palme d'Or.
Ini merupakan pilihan yang cukup mengejutkan, namun menurut Blanchett, adegan akhir film sungguh luar biasa, sehingga kemungkinan menjadi penyebab filmnya terpilih sebagai pembawa pulang piala tertinggi di Cannes tersebut, yang diserahkan pada Sabtu, 19 Mei lalu.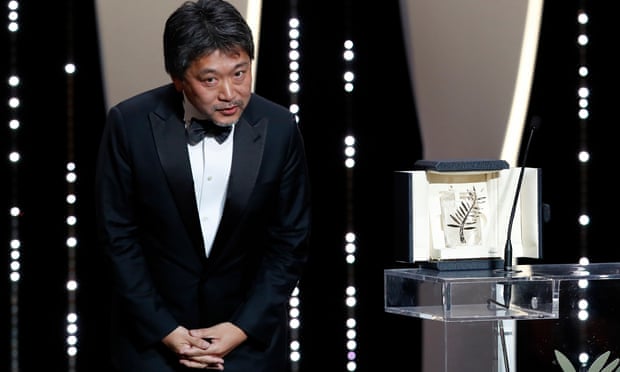 Hirokazu Kore-eda menerima Palme d'Or. Sumber gambar: The Guardian.
Sementara itu, Palme d'Or khusus diberikan pada film sutradara legendaris asal Prancis, yang kini telah berusia 87 tahun, Jean-Luc Godard, Image Book.
Menjadi runner-up adalah komedi anti-Trump dari Spike Lee, BlacKkKlansman, yang mendapatkan piala Grand Prix. Sedangkan untuk Jury Prize diberikan kepada Capernaum, sebuah film karya sutradara perempuan berdarah Lebanon, Nadine Labaki.
Sutradara terbaik jatuh kepada sutradara asal Polandia, Pawel Pawlikoski, berkat filmnya yang berjudul Cold War.
Sementara itu, Border, sebuah film horor karya sutradara asal Swedia, Ali Abbasi, mendapatkan piala prestisius Un Certain Regard. Panel juri yang diketuai Benicio Del Toro juga memilih sutradara asal Ukraina, Sergei Loznitsa sebagai Sutradara Terbaik. Un Certain Regard Jury Prize sendiri diberikan kepada The Dead and the Others karya João Salaviza dan Renée Nader Messora.
Para pemenang Un Certain Regard diumumkan di hari Jumat, 18 Mei 2018.
Beralih ke peraih FIPRESCI, dan pemenang In Competition adalah film terbaru karya sutradara asal Korea, Lee Chang-dong, Burning, yang ceritanya diangkat dari cerpen karya pengarang kenamaan Jepang, Haruki Murakami.
Sedang Un Certain Regard jatuh kepada Girl karya Lukas Dhont dan International Critics' Week diberikan kepafa One Day karya Zsófia Szilágyi
Berikut daftar lengkap pemenang Festival Film Cannes 2018:
Official awards
In Competition
Palme d'Or: Shoplifters by Hirokazu Kore-eda
Grand Prix: BlacKkKlansman by Spike Lee
Best Director: Paweł Pawlikowski for Cold War
Best Screenplay:

Alice Rohrwacher for Happy as Lazzaro
Jafar Panahi for 3 Faces

Best Actress: Samal Yeslyamova for Ayka
Best Actor: Marcello Fonte for Dogman
Jury Prize: Capernaum by Nadine Labaki
Special Palme d'Or: The Image Book by Jean-Luc Godard
Un Certain Regard
Un Certain Regard Award: Border by Ali Abbasi
Un Certain Regard Jury Prize: The Dead and the Others by João Salaviza and Renée Nader Messora
Un Certain Regard Award for Best Director: Sergei Loznitsa for Donbass
Un Certain Regard Jury Award for Best Performance: Victor Polster for Girl
Un Certain Regard Award for Best Screenplay: Meryem Benm'Barek-Aloïsi for Sofia
Cinéfondation
First Prize: The Summer of the Electric Lion by Diego Céspedes
Second Prize:

Calendar by Igor Poplauhin
The Storms in Our Blood by Shen Di

Third Prize: Inanimate by Lucia Bulgheroni
Independent awards
FIPRESCI Prizes
In Competition: Burning by Lee Chang-dong
Un Certain Regard: Girl by Lukas Dhont
International Critics' Week: One Day by Zsófia Szilágyi
Ecumenical Prize
Prize of the Ecumenical Jury: Capernaum by Nadine Labaki
Special Mention: BlacKkKlansman by Spike Lee
International Critics' Week
Nespresso Grand Prize: Diamantino by Gabriel Abrantes and Daniel Schmidt
Leica Cine Discovery Prize for Short Film: Hector Malot: The Last Day of the Year by Jacqueline Lentzou
Louis Roederer Foundation Rising Star Award: Félix Maritaud for Sauvage
Gan Foundation Award for Distribution: Sir by Rohena Gera
SACD Award: Woman at War by Benedikt Erlingsson and Ólafur Egill Egilsson
Canal+ Award for Short Film: A Wedding Day by Elias Belkeddar
Directors' Fortnight
Art Cinema Award: Climax by Gaspar Noé
SACD Award: The Trouble with You by Pierre Salvadori
Europa Cinemas Label Award: Lucia's Grace by Gianni Zanasi
Illy Short Film Award: Skip Day by Ivete Lucas and Patrick Bresnan
Carrosse d'Or: Martin Scorsese[38]
L'Œil d'or
L'Œil d'or: Samouni Road by Stefano Savona
Special Mention:

Libre by Michel Toesca
The Eyes of Orson Welles by Mark Cousins
Queer Palm
Queer Palm Award: Girl by Lukas Dhont
Short Film Queer Palm: The Orphan by Carolina Markowicz
Palm Dog
Palm Dog Award: Canine cast of Dogman
Grand Jury Prize: Diamantino
Palm DogManitarian Award: Vanessa Davies and her pug Patrick
Special Jury Prize: Security dogs Lilou, Glock and Even
Prix François Chalais
François Chalais Prize: Yomeddine by Abu Bakr Shawky
Cannes Soundtrack Award
Cannes Soundtrack Award: Roma Zver and German Osipov for Summer
Trophée Chopard
Chopard Trophy: Elizabeth Debicki and Joe Alwyn