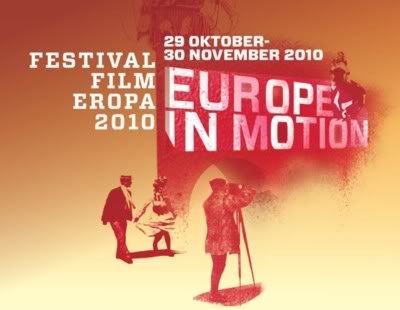 EUROPEAN FILM SYNOPSIS
COOKING HISTORY
Austria.2009.Documentary.90 Min.German with English subtitle
Director : Peter Kerekes
Synopsis:
This documentary is a portrait of military cooks from all over Europe, who have served in various armies and witnessed the European wars of the 20th century. Their recollections tap into a subjective view of historical events and one that diverges in some respects from conventional history. They take us behind the scenes of dates, facts, declarations of war, battles, and peace agreements.

Film dokumenter ini merupakan potret dari para tukang masak di seluruh Eropa, yang telah mengabdi di dalam berbagai kesatuan tentara dan telah menyaksikan perang-perang yang terjadi di Eropa di abad 20. Ingatan-ingatan mereka menyajikan pandangan subyektif terhadap peristiwa-peristiwa sejarah dan dalam beberapa hal, berbeda dengan pandangan umum sejarah. Mereka membawa kita ke dalam peristiwa-peristiwa di balik tanggal-tanggal, fakta-fakta, pernyataan-pernyataan perang, pertempuran-pertempuran dan perjanjian perdamaian.
DAGEN ZONDER LIEF | WITH FRIENDS LIKE THESE...
Belgium. 2007.Drama.100 min. Dutch with English subtitles.
Director: Félix van Groeningen
Casts: Wine Dierickx, Jeroen Perceval, Pieter Genard, An Miller
Synopsis:
When Black Kelly gets back from New York, she discovers that more has changed than just her hair colour while she's been away. Reunited with the old gang, she realises that life went on during her absence.

Ketika Black Kelly kembali dari New York, ia merasa bahwa banyak hal telah berubah ketika ia pergi, bukan sekadar warna rambutnya. Kembali dengan geng lamanya, dia menyadari bahwa hidup terus berputar selama dia tak ada.
SVETAT E GOLJAM I SPASENIE DEBNE OTVSJAKADE
THE WORLD IS BIG AND SALVATION LURKS AROUND THE CORNER

Bulgaria.2008.Drama.105 Min.Bulgarian with English subtitles.
Director : Stephan Komandarev
Casts : Miki Manojlovich, Carlo Ljubek, Hristo Mutafchiev, Ana Vasilev-Zueka
Synopsis:
This is the story of a Bulgarian boy who grows up to be a German man. After a car accident, Alex can't remember even what his name is. In an attempt to cure him from amnesia, his grandfather Bai Dan comes to Germany and organizes a spiritual journey from his grandson back into his past, to the country he came from. While traveling across time and place and crossing half of Europe, they play backgammon, the simplest, and yet the most complex of all games. The game leads Alex to a realization of who he is, and that backgammon is the key to his story. Destiny is the dice we hold in our own hands and life is a game somewhere between chance and skill.
Film ini bercerita tentang seorang anak muda Bulgaria yang tumbuh menjadi laki-laki Jerman. Setelah mengalami kecelakaan, Alex tidak dapat mengingat apa pun bahkan namanya sendiri. Dalam usaha untuk menyembuhkannya dari amnesia, kakeknya Bai Dan datang ke Jerman dan mengadakan perjalanan spiritual bagi cucunya menuju masa lalu, menuju Negara asal mereka. Menempuh perjalanan lintas waktu dan tempat dan menyeberangi hampir setengah Eropa, mereka main backgammon, permainan paling sederhana namun paling kompleks dari seluruh permainan yang pernah ada. Permainan ini membawa Alex pada kesadaran siapa dirinya. Backgammon menjadi kunci dari kisah Alex. Takdir adalah dadu yang kita pegang di tangan dan hidup adalah permainan yang berdiri di antara kesempatan dan ketrampilan.
NE DAO BOG VECEG ZLA
GOD FORBID GREATER EVIL
Croatia.2002.Drama/Comedy.107 Min. Croatian with English subtitles.
Director: Snjezana Tribuson
Casts: Filip Curic, Luka Dragic, Mrijana Rogina, Ivo Gregurevic
Synopsis:
Provincial town in the 60s:eleven years old Frula lives in the house nearby town cemetery. He grows up with the funeral music, in the circle of the strenuous family:grumpy father, mother who cares too much, anticommunist grouchy grandmother, stinger sister and stronger school friends. Frula has to fight for his place under the sun. Sincere nostalgic movie with great child actors.
Suatu kota kecil pada tahun 1960-an:Frula, seorang anak berumur 11 tahun tinggal di sebuah rumah yang terletak di dekat komplek pemakaman. Dia tumbuh dengan musik untuk pemakaman, dalam lingkungan keluarga yang ketat:seorang ayah yang pemarah, ibu yang terlalu peduli, nenek anti-komunis yang suka menggerutu, saudara perempuan yang sinis dan teman-teman sekolahnya yang lebih kuat dari dia. Frula harus berjuang untuk tempatnya di dunia.
O TELEFTAIOS GYRISMOS
THE LAST HOMECOMING
Cyprus.2008.Drama.85 Min. Greek with English subtitles
Director: Corinna Auvraamidou
Casts: Stavros Louras, Popi Avraam, Dimitris Tistras

Synopsis:
Two brothers fall in love with the same woman during the unstable political landscape of 1974 Cyprus.
Dua kakak-beradik jatuh cinta pada seorang perempuan yang sama selama masa politik yang tidak stabil di Cyprus di tahun 1974.
MELI KAI KRASI
HONEY AND WINE
Cyprus.2006.Drama.76 Min. Greek with English subtitles
Director: Marinos Kartikkis
Casts: Androula Irakleous, Elena Dimitriou, Alex Michael , Armen Meserlian
Synopsis:
Eleni leaves alone, haunted by memories of the past. Her life is a routine until she witnesses a quarrel between a young couple in the house across the street. One afternoon, Eleni receives an unexpected visit from Rhea, the young woman from the house across the street. She has locked herself out and needs to use Eleni's phone in order to call a locksmith. And so begins a relationship between the two women with unforeseen consequences for them both.
Eleni hidup sendiri, dihantui oleh ingatan akan masa lalu. Hidupnya adalah sebuah rutin hingga dia melihat sebuah pertengkaran antar pasangan muda yang tinggal di seberang rumahnya. Suatu sore, Eleni menerima kunjungan tak terduga dari Rhea, perempuan muda dari seberang rumahnya. Dia terkunci dan membutuhkan telepon Eleni untuk menelepon tukang kunci. Maka mulailah hubungan antara dua perempuan dengan konsekuensi yang tak terduga bagi mereka berdua.
PROTEKTOR
PROTECTOR
Czech.2009.Drama.100 Min.Czech with English subtitles
Director: Marek Najbrt
Casts: Marek Daniel, Jana Plodkova, Jiri Ornest, Simon Schwarz
Synopsis:
A man makes a dangerous deal in hopes of saving his wife in this World War II period drama from director Marek Najbrt. It's 1938, and Hana is a Czech actress who has been enjoying considerable success on the stage and the screen until German forces invade the country and take control of the government.
Hana is part Jewish, and under the new Nazi regime, her future as an actress (and a Czech citizen) is in doubt. Hana's husband Emil is a radio journalist who loves his spouse but has been secretly jealous of her fame and success; members of the Axis propaganda agencies are impressed with Emil's skills as a reporter and announcer, and they recruit him to help convince his listeners of the wisdom of the new leadership. Emil agrees, ostensively to help protect his wife, but as he becomes a rising star among the Nazis, she's now dependent on him for her continued safety, a situation she can barely stand.
As Emil becomes more powerful, his relationship with Hana begins to crumble until a simple mistake on his part puts both of them in grave danger. Ultimately that threatens to destroy the very thing he's trying to protect: Hana.
'Protektor' is a story of the fated relationship of two people who go through their own private drama during a wartime tragedy. The film was the Czech Republic's official submission for the Foreign Language Film Awards competition of the 2010 Academy Awards.
Seorang laki-laki membuat perjanjian yang berbahaya untuk menyelamatkan istrinya dalam drama Perang Dunia II karya sutradara Marek Najbrt. Tahun 1938, Hana adalah seorang aktris Czeko yang sukses di panggung maupun di dunia layar lebar hingga pasukan Jerman menduduki Czeko dan mengambil kendali pemerintahan. Hana adalah perempuan setengah Yahudi dan di bawah rejim Nazi yang baru, masa depannya sebagai aktris dan warga Czeko terancam. Suami Hana, Emil adalah wartawan radio yang mencintai istrinya namun sebenarnya memendam perasaan iri atas kesuksesan dan keterkenalan Hana. Anggota tim propaganda Blok Poros terkesan dengan ketrampilan Emil sebagai reporter dan penyiar dan mereka pun merekrut Emil untuk membantu meyakinkan para pendengar soal kebijakan kepemimpinan baru. Emil setuju, dengan alasan yang sangat jelas yakni melindungi istrinya. Ia pun jadi bintang baru di antara kaum Nazi, sehingga istrinya semakin tergantung padanya –sesuatu yang sangat sulit bagi Hana.
Ketika Emil semakin berkuasa, hubungannya dengan Hana mulai berantakan hingga sebuah kesalahan kecil yang dilakukan Emil mengancam kehidupan mereka berdua. "Protektor" adalah kisah tentang hubungan dua orang yang melewati drama pribadi mereka sendiri selama perang. Film ini merupakan film resmi Republik Czech untuk kategori film berbahasa asing terbaik di ajang Academy Awards 2010.
SOOLOILUA
PLAYING SOLO
Finland.2007. Drama/Comedy.99 Min. Finnish with English subtitles
Director: Lauri Nurkse
Cast: Saija Lentonen, Kari-Pekka Toivonen, Kristiina Elstelä
Synopsis:
Emma, an intelligent and independent urban repórter, is sent to interview top conductor Joel Abrahamsson. The interview is a total flop but during it, Emma suddenly finds herself falling for Joel –in a weeks time, both head over heels in love. Emma could never have imagined that in just a few weeks she would be living in an old country house with Joel's demented but temperamental mother, while Joel races around the world from concert to concert. And in less than no time, Emma finds out that she is pregnant......
Emma, seorang wartawan yang pintar dan independen, dikirim untuk mewawancarai seorang konduktor terkenal, Joel Abrahamsson. Wawancara gagal namun selama itu, Emma tiba-tiba merasa jatuh cinta pada Joel –minggu-minggu setelahnya mereka saling jatuh cinta. Emma tidak pernah membayangkan bahwa dalam tempo beberapa minggu, dia akan hidup di rumah di desa dengan ibu Joel cepat marah dan mulai pikun, sementara Joel pergi keliling dunia dari konser ke konser. Dan dalam waktu singkat, Emma mengetahui bahwa ternyata dia hamil.....
MAMMUTH
France.2010.Drama.92 Min. French with English subtitles
Director: Gustave Kervern and Benoît Delépine
Casts: Gérad Depardieu, Yolande Moreau, Isabelle Adjani, Benoît Delépine Poelvoorde
Synopsis:
Serge Pilardosse has just turned 60. He's worked since he was 16, never had a day off work, never been sick. But the time has come to retire and to claim his pension. That's when disillusion sets in: some of his employers have forgotten to declare him and he can't claim what's owing to him. Encouraged by Catherine, his wife, he gets on his old motorbike from the 1970s. "Mammut" is its name, and it gave him his nickname. Man and bike set off to find his payslips. During his adventure, he rediscovers his past and his quest to locate administrative documents soon becomes of secondary importance.
Serge Pilardosse menginjak usia 60 tahun. Dia telah bekerja sejak berusia 16 tahun. Ia tidak pernah membolos sekalipun, juga tidak pernah sakit. Namun tibalah waktunya untuk pensiun dan menngambil uang pensiunnya. Saat itulah ketika kekecewaan datang: beberapa orang yang pernah memepekerjakannya lupa mengklaim pensiun Serge sehinga Serge tak bisa mengambil uang yang semestinya jadi miliknya. Didorong oleh Catherine, istrinya, ia mengendarai kembali sepeda motor tua dari tahun 1970-an. Mammuth namanya Mammuth sehingga Serge pun dipanggil demikian. Serge dan sang sepedea motor berangkat untuk mengurus slip-slip pembayaran. Dalam petualangan itu, dia kembali menemukan masa lalunya dan pencarian dokumen administratif miliknya segera tak jadi penting.
SOUL KITCHEN
Germany. 2009. Comedy.100 min. German with English subtitle.
Director: Fatih Akin
Casts: Adam Bousdoukos, Birol Ünel, Moritz Bleibtreu
Synopsis:
Zinos, a German of Greek descent, owns the Soul Kitchen, a restaurant providing simple food, in Hamburg. The business runs of sorts. Zinos girlfriend Nadine, who works as a journalist leaving for Shanghai and his incarcerated brother Illias needs a job to extend his special leave from prison. Also Zinos suffers from a slipped disc and can not afford treatment because he has no medical insurance. He hires the fiery and knife-throwing chef Shayn who brings dramatic changes to the restaurant. Firstly the regular guest, who are accustomed to Schnitzel and Currywurst are shocked by the new Haute cuisine, but by and by they lean to cherish the good food. Thanks to the Band of waiter Lutz and a DJ mixing console, which was stolen by Illias, the Soul Kitchen becomes a popular music local. But soon new stress is caused by property shark Neumann who tries to buy the restaurant for a new property development. Meanwhile Zinos to craves for Nadine.
In order to save his relationship Zinos makes Illias the managing director of the Soul Kitchen and wants to travel to Shangai. But at the airport he meets Nadine, who's now in love with a Chinese man. In Zinos absence Illias loses the Soul Kitchen trough Poker to Neumann. During the attempt to steal the deed of ownership from Neumann, Illias is arrested by the police. Zinos is below the floor, especially by his very impaired spinal disc herniation. But with help from physiotherapist Anna and alternative chiropractor Kemal, he is healed. Fortunately Neumann is arrested by the fiscal authorities and becomes Illias new fellow inmate in prison. The Soul Kitchen gets auctioned off and with financial help from Nadine, Zinos buys his local back. In the end of the movie Zions has a relationship with Anna and Illias (although still in prison) with the waitress Lucia.
Zinos, seorang warga Jerman keturunan Yunani, memiliki Soul Kitchen, sebuah restoran yang menyediakan makanan sederhana, di Hamburg. Bisnisnya berjalan relatif baik. Pacar Zinos, Nadine yang bekerja sebagai wartawan pergi ke Shanghai dan kakaknya yang dipenjara, Illias membutuhkan kerja agar dia bisa memperpanjang masa kebebasannya. Zinos juga menderita gangguan sendi namun tidak dapat berobat karena ia tidak memiliki asuransi kesehatan. Dia mempekerjakan Shayn, juru masak berapi-api yang mampu memainkan atraksi pisau lempar, yang membawa perubahan dramatis ke restorannya. Pada mulanya, pelanggan tetap, yang telah terbiasa dengan menu Schnitzel dan Currywurst kaget dengan santapan mewah, namun pelan-pelan mereka belajar untuk menghargai makanan enak.
Berkat band para pramusaji lengkap dengan konsol DJ, hasil curian Illias, Soul Kitchen menjadi tempat musik yang populer. Namun segera saja, persoalan datang, akibat sang konglomerat pertanahan, Neumann mencoba membeli restoran tersebut untuk membangun perumahan baru. Zinos merindukan Nadine. Untuk menyelamatkan hubungannya, Zinos mengangkat Illias sebagai direktur operasional Soul Kitchen dan hendak pergi ke Shanghai. Namun di bandara, dia bertemu Nadine yang jatuh cinta dengan seorang laki-laki China.
Selama Zinos tidak ada, Illias kehilangan Soul Kitchen karena kalah main poker dengan Neumann. Dalam usaha untuk mencuri kepemilikan restoran dari Neumann, Illias ditahan oleh polisi. Zinos berada di kamar bawah, karena penyakitnya kambuh. Namun dengan bantuan psikoterapis, Anna dan chiropraktor alternatif, Kemal, ia akhirnya sembuh. Untungnya, Neumann ditahan oleh petugas fiskal dan menjadi rekan sepenjara Illias. Restoran Soul Kitchen dilelang dan dengan bantuan keuangan dari Nadine, Zinos membeli restorannya kembali. Di akhir film, Zinos akhirnya menjadi kekasih Anna dan Illias (meski masih di penjara) menjadi kekasih pramusaji, Lucia.
PRINZESSINENBAD
Germany.2006.Documentary.92 Min. German with English subtitles
Synopsis:
Klara, Mina and Tanutscha are 15 years old. They live with their mother in Berlin-Kreuzberg. They already know each other since they were child, they go to the parties together and spend summer time in Prinzenbad. They are unseparated but they also start to find their own way: Klara moves to other school, Mina wants to live with her boyfriend, and Tanutscha demands more freedom from her mother.
Klara, Mina dan Tanutscha berusia 15 tahun, tinggal dengan ibu mereka di Berlin-Kreuzberg. Mereka saling kenal sejak mereka kecil, pergi ke pesta-pesta bersama-sama, menghabiskan hari-hari musim panasnya di Prinzenbad. Mereka sangat tak bisa dipisahkan, namun mereka juga mulai untuk mencari jalannya sendiri di dunia ini: Klara pindah sekolah, Mina ingin tinggal bersama pacarnya dan Tanutscha menuntut dari ibunya lebih banyak kebebasan.
FERIE
VACATION
Germany.2007.Drama.91 Min.German with English subtitles
Director: Thomas Arsland
Casts: Angela Winkler, Karoline Eichhorn, Uwe Bohm, Anja Schneider
Synopsis:
Summer, sunshine, holiday time, a remote country house in the northern German region of Uckermarck, and a family unit which is slowly crumbling apart. The mother is tired of lonely rural life. The daughter's marriage is at an end. The teenage son has his first quarrel with his girlfriend. The grandmother falls seriously ill and dies. Dramatic events, which nonetheless creep up on the protagonists unawares.

Musim panas, matahari, masa liburan, rumah kampung yang terpencil di Uckermarck – dan gambar keluarga yang sedikit demi sedikit rusak. Si ibu sudah bosan dengan kehidupan desa yang sepi. Perkawinan putrinya di ambang kehancuran. Putranya yang masih remaja bertengkar dengan pacarnya. Si nenek sakit parah dan meninggal. Peristiwa-peristiwa dramatis, tapi yang muncul dengan diam-diam.
NYFES
THE BRIDES
Greece.2004.Drama.128 Min.Greek with English subtitles
Director: Pantelis Voulgaris
Casts: Damian Lewis, Victoria Haralabidou, Andrea Ferreol, Evi Saoulidou,
Synopsis:
Brides
Summer 1922
Smyrna Turkey
After roaming Asia Minor for several years American photographer Norman Harris must return home. The American newspaper he works with has rejected his photographs from the battlefield.
At the same time in Samothrace, Niki, a seamstress, is preparing her little trunk for Chicago. She must marry Prodromos, a tailor she has never met in place of her older sister who couldn't bear living away from home and returned to Greece in bad health.
Norman and Niki are traveling on the same ship. He is in First Class, she is in Third, along with another 700 "mail-order brides" from every corner of Greece, Turkey, Russia, and Armenia. In their suitcases, they all carry the photograph of an unwelcome bridegroom and their wedding gown. Some are immigrating through agencies, others through orphanages or church organizations.
Brides
Musim panas tahun 1922
Smyrna Turki
Setelah beberapa tahun menjelajah di Asia Kecil fotografer Amerika Norman Harris harus kembali kenegaramya. Sebuah perusahan penerbit koran di Amerika, dimana ia bekerja, menolak foto-foto yang diambilnya dari medan perang.

Pada saat yang sama di Samothrace, Niki, seorang penjahit, sedang mempersiapkan barang-barangnya untuk dibawanya ke Chicago. Dia akan menikah dengan Prodromos, seorang penjahit yang tidak pernah ditemuinya di tempat kakaknya tidak bisa pergi jauh dari rumah dan kembali ke Yunani dalam keadaan yang tidak sehat.
Norman dan Niki bepergian di kapal yang sama. Norman di kelas pertama, sedangkan Niki di kelas tiga, bersama dengan 700 "pengantin pesanan" lainnya dari setiap sudut Yunani, Turki, Rusia, dan Armenia. Dalam koper mereka, mereka semua membawa gaun pengantin dan foto pernikahan mereka. Beberapa berimigrasi melalui agen-agen, ada juga yang melalui panti asuhan atau organisasi gereja.
POLIGAMY
Hungary.2009.Romantic Comedy.85 Min.Hungarian with English subtitles
Director : Dénes Orosz
Casts : Sándor Csányi, Kátya Tompos, Béla Mészaros, Adrienn Réti, Bori Péterfi

Synopsis:
András, a television screenwriter and Lilla, university teacher are a young couple, living together for years. During the years since they moved in together, something was lost between them: while Lilla would like to get married and have children, András does not know what to look for in life. From the day Lilla tells him she is pregnant, András inexplicably wakes up every morning next to different women, reliving with them the different stages of a relationship. Will he find his way back to the one women he really loves?
András, penulis scenario program televisi dan Lilla, seorang dosen adalah pasangan muda yang telah tinggal bersama bertahun-tahun. Setelah mereka tinggal bersama, sesuatu telah hilang di antara mereka: Lilla ingin menikah dan memiliki anak, smentara András tidak tahu apa yang harus dia cari dalam hidup. Dari hari ketika Lilla berkata bahwa ia hamil, András selalu bangun pagi dengan perempuan yang berbeda, menghidupkan kembali berbagai fase hubungan yang berbeda. Apakah dia akan menemukan jalan kembali kepada perempuan yang benar-benar dicintainya?
PUSKÁS HUNGARY

Hungary.2009.Documentary.116 Min. Hungarian with English subtitles.
Director: Tamás Almási
Synopsis:
The story of Ferenc Puskás, an uncompromising football player, who regarded his favourite sport as an art form – and performed it accordingly. From his modest beginnings in an impoverished area of Budapest, he became a national hero with his "Golden Team" and subsequently went on playing for Real Madrid where he gained worldwide recognition. This documentary tells the story of Puskás through archive materials with the commentary of Puskás and his contemporaries in a never before seen, encompassing feature.

Kisah Ferenc Puskás, seorang pemain sepakbola yang menyebut olahraga favoritnya sebagai seni –dan mempertunjukkannya sendiri. Dari permulaannya yang sederhana di daerah miskin di Budapest, Puskás menjadi pahlawan nasional dengan tim emasnya dan kemudian, bermain untuk klub Real Madrid di mana ia mendapatkan banyak pengakuan. Film dokumenter ini bercerita tentang Puskás melalui bahan-bahan arsip dengan komentar Puskás dan teman-temannya yang belum pernah dipertunjukkan sebelumnya.
THE MUZSIKÁS STORY

Hungary.2010.Documentary.116 Min. Hungarian with English subtitles
Director: Péter Pál Tóth
Synopsis:
The 35 Years of the Muzsikás Group

The Muzsikás Group earned its world fame for playing folk music to the highest standard, remaining true to their roots while also being open to other genres. More importantly, they preserve and mediate their elemental love for music to their audience. During the Kádár regime in communist Hungary, they were possibly the most famous and definitely the most lasting representatives of the then emerging folk "dance house movement" that was bold enough to make a statement about national identity, a taboo in those times. After the change of the political system they shared the treasure that they and other similar-minded people have preserved - and basically salvaged - with the world. They work together with classical, jazz, rock and klezmer musicians, performing in the most important concert halls of the world. They are among those few who are regarded as being the true faces of Hungary.
The Muzsikás Group mendapatkan nama karena mereka memainkan musik folk dengan standar tinggi, tetap setia dengan akar mereka meski tetap terbuka dengan genre-genre musik lain. Lebih penting lagi, mereka menjaga dan memediasi cinta mereka akan musik kepada para pendengar. Selama rezim Komunis Kádár di Hungaria, mereka mungkin adalah wakil paling populer dan paling abadi dari gerakan musik folk "dance house movement" yang sangat berani membuat pernyataan tentang identitas nasional, sebuah tabu di masa itu.

Setelah perubahan sistem politik, mereka berbagi kekayaan yang telah mereka dan orang-orang seperti mereka lestarikan –dan pada dasarnya, gali –kepada dunia. Mereka bekerja sama dengan musisi klasik, jazz, rock dan klezmer, pentas di berbagai gedung konser paling penting di dunia. Mereka adalah sedikit dari beberapa yang benar-benar bisa disebut sebagai wajah sejati Hungaria.
THE SECRET OF KELLS

Ireland.2009.Animation.75 Min.English
Director: Tomm Moore
Casts: Even McGuire, Mick Lally, Brendan Gleeson
Synopsis:
The story is set in 9th century. Twelve-years-old Brendan is educated by His uncle, Abbot Cellach, who holds a firm grips on His nephew and expects him to follow in His footsteps. One day, Brendan meets Brother Aidan, a master illustrator who shows him the beauty of art and stimulates His creativity and fantasy. Finally, Brendan decides to break free in search of His dream: completing the valuable Book of Kells. On His journey through the forest, he hás to face His biggest fear.
Cerita film ini terjadi pada abad sembilan. Brendan yang baru berusia 12 tahun dididik oleh pamannya, Abbot Cellach yang menjaga keponakannya dengan ketat dan mengharap Brendan mengikuti langkah hidupnya. Suatu hari, Brendan bertemu dengan Brother Aidan, seorang ilustrator kenamaan yang menunjukkan padanya keindahan seni dan mendorong kreativitas dan fantasinya. Pada akhirnya, Brendan memutuskan untuk lari mencari kebebasan dan memenuhi mimpinya: menyelesaikan Buku Kells yang sangat berharga. Dalam perjalanannya lewat hutan, dia harus menghadapi ketakutan terbesarnya.
COSMONAUTA
COSMONAUT
Italy.2009.Comedy.83 Min. Italian with English subtitle
Director: Susanna Nicchiarelli
Casts: Claudia Pandolfi, Sergio Rubini
In 1957, even if you are a communist, cheating in love is something you shouldn't do. Luciana is a 9 year old girl who is living her first loves and her first disappointments, while Laika, sent by the Russians, is surfing in space.
Pada tahun 1957, bahkan jika anda komunis, berbohong dalam cinta adalah sesuatu yang tidak seharusnya anda lakukan. Luciana adalah gadis berumur Sembilan tahun dan sedang jatuh cinta dan kecewa untuk pertama kalinya. Sementara Laika, dikirim oleh orang-orang Russia, berselancar di ruang angkasa.
RÉFRACTAIRE
DRAFT DODGERS
Luxembourg.2009. Historical Drama.97 Min. French with English subtitles
Director: Nicolas Steil
Casts: Grégoire Leprince-Ringuet, Marianne Basler,Carlo Brandt, Michel Voïta
Synopsis :
Réfractaire" is a reflection about commitment forced by the impossible choice which young men faced in their twenties: either agree to go to war on the front line, risking their lives firing on their allies, or bury themselves for months or even years in the cold and humidity of the iron mines? With the anguish of knowing that their parents would be deported…
The film tries to decipher the mechanisms which lead to resistance, which find it's roots in the family "karma".
Réfractaire adalah sebuah cerminan tentang komitmen yang dipaksakan oleh sebuah pilihan yang tak mungkin di mana sejumlah pemuda sedang berada di usia 20-an mereka:harus setuju pergi berperang di garis depan, merisikokan hidup mereka untuk menembak Sekutu, atau mengubur diri mereka selama berbulan-bulan atau bahkan bertahun-tahun di pertambangan besi yang lembab dan dingin? Dengan amarah karena mengetahui orang tua mereka akan dideportasi….
Film ini mencoba menguraikan mekanisme yang menciptakan perlawanan, yang menemukan akarnya dalam kata 'karma' keluarga.
MAGICZNE DRZEWO
THE MAGIC TREE
Poland.2008.Fantasy.83 Min.Polish with English subtitle
Director: Andrzej Maleszka
Casts: Marcin Chochlew, Andrzej Chyra, Waldemar Czyszak, Czlowiek Nojew Ery
Synopsis:
Three children stumble upon a red chair, carved from a Magic Tree. This chair will grant your every wish if you sit upon it and wish. Their first wish is of course, pizza! But then their unpleasant aunt makes an unfortunate wish about the children's parents ...
Tiga anak secara tak sengaja tersandung kursi merah, yang kayunya berasal dari pohon ajaib. Kursi itu akan mengabulkan setiap permintaan jika kita mendudukinya dan mengucapkan permintaan. Permintaan pertama mereka, tentu saja, pizza! Tetapi kemudian, bibi mereka yang galak membuat permohonan yang jahat tentang orang tua mereka.
DRZAZGI
SPLINTERS
Poland.2008.Tragicomedy.105 Min.Polish with English subtitles.
Director: Maciej Pieprzyca
Casts: Antoni Pawlicki, Karolina Piechota, Marcin Hycnar, Krzysztof Ogłoza
Synopsis:
A tragicomedy presenting few days in lives of three young people in one of the Silesian industrial towns. Bartek, Marta, and Robert are like splinters: Sharply lone and alienated, but also spontaneous, rough, that can get under one's skin… The paths of these three people cross during one of the seemingly ordinary and grey weekends. Truly, they haven't intended to meet; truly, they shouldn't have met; truly, the fate gave them no choice.
The leitmotiv of the movie is a need of love and a constant search for it. This is why, among others, the film in the end brings hope. It consciously refers to the bitter-sweet worlds of the Czech "small realism" and the British social cinema.
Sebuah tragi-komedi yang menyajikan beberapa hari dalam hidup tiga orang muda di sebuah kota industri, Silesian. Bartek, Marta dan Robert bagai serpihan: sendirian dan terasing, namun juga spontan, kasar, dan mampu mengganggu. … Jalan dari tiga orang ini berlintasan di suatu akhir minggu yang tampaknya biasa saja dan kelabu. Sesungguhnya, mereka tidak secara sengaja ingin bertemu. Sesungguhnya, mereka bisa saja tidak bertemu. Sesungguhnya, takdir tidak memberikan mereka pilihan.
O MISTÉRIO DA ESTRADA DE SINTRA
THE MISTERY OF SINTRA'S ROAD
Portugal.2007.Adventure.115 Min.Portuguese with English subtitles.
Director: Jorge Paixão da Costa
Casts: Ivo Canelas, António Cerdeira, Bruna Di Tullio, Rogério Samora

Summer of 1870. Two writers, Eça and Ramalho, wrote a detective story for a big newspaper. Is it possible the fictitious story they created was actually based on the truth? The story developed as threats, duels, passion, and intrigues followed. Crimes happened in a story where love is more powerful than tradition, intrigues lead to the facts, and everything goes like an extreme game. Ramalho is kidnapped at night and demanded to medically tend to an Englishman shot in a Portuguese noble manor. From then on, the plot splits between Ramalho and Eça writing a fictionalized account of this incident and the events leading to it; and coincidentally the writers' fiction ends up being very near to what really happened with Rytmel and the Valadas family. Both worlds end up mixing, and in the end we don't know if the whole thing has really happened.
Musim panas 1870. Dua penulis, Eça dan Ramalho, menulis sebuah cerita detektif untuk surat kabar besar. Apakah mungkin, kisah fiksi yang mereka ciptakan ternyata berdasarkan kisah nyata? Cerita berkembang sebagai ancaman, duel, hasrat dan intrik mengikuti. Tindak kejahatan terjadi di cerita di mana cinta lebih kuat dari tradisi, intrik membawa pada fakta-fakta, dan segala sesuatu berlangsung bagai permainan berbahaya.
Ramalho diculik suatu malam dan diminta untuk merawat seorang laki-laki Inggris yang tertembak oleh seorang bangsawan Portugis. Dari situ, plot terpecah antara Ramalho dan Eça yang menulis secara fiksi tentang peristiwa itu dan peristiwa-peristiwa lain yang memicu peristiwa itu; secara kebetulan fiksi para penulis ini berakhir di bagian yang sangat dekat kebenarannya dengan apa yang terjadi di keluarga Rytmel dan Valadas. Kedua dunia bercampur, dan di akhir film, kita tidak tahu apakah seluruh peristiwa ini benar-benar terjadi.
AINDA HÁ PASTORES?
ARE THERE STILL ANY SHEPHERDS?
Portugal.2006.Documentary.72 Min.Portuguese with English subtitles
Director: Jorge Pelicano
Casts: Hermínio Carvalhinho, Fernando Alves, Quim Barreiros
In the Casais de Folgosinho, a lost valley in the mountains of Serra da Estrela, Portugal, live the country's last truly genuine shepherds. Almost invisible to the rest of the world, they subsist without electricity, running water or paved roads. Nowadays, the oldest are dying and the youngest show no interest in the demanding job of being a shepherd. Herminio, 27 years old, is the youngest shepherd living in the valley. How long will he maintain this occupation? After all, are there still any shepherds? This film is a response to that question.
Di Casais de Folgosinho, sebuah lembah sunyi di pegunungan Serra da Estrela, Portugal, tinggallah sang penggembala-penggembala terakhir. Hampir tak terlihat oleh dunia, mereka bertahan tanpa listrik, air keran dan jalanan beraspal. Saat ini, orang-orang tua tengah sekarat dan yang muda tidak menaruh minat akan pekerjaan sebagai seorang penggembala, yang memang berat. Herminio, yang berusia 27 tahun, adalah penggembala paling muda yang hidup di lembah tersebut. Sampai kapan ia akan bertahan menjadi seorang penggembala? Dan lagi, benarkah masih ada penggembala di zaman ini? Film ini merupakan sebuah respon akan pertanyaan ini.
QUARESMA
LENT
Portugal.2003.Drama.95 Min.Portuguese with English subtitles
Director: José Álvaro Morais
Casts: Beatriz Batarda, Filipe Cary, Rita Durão, Ricardo Aibéo
David (Filipe Cary) is married, has a young daughter and is almost on his way to Denmark with his family to work there. With the sudden death of his grandfather he has to return to his birthtown to follow the funeral and to meet with his family, from whom he've been keeping distance for a long time. The trip was to take just the time of a funeral, but it ended to be a stay of several days. Because David meets the mysterious wife (Beatriz Batarda) of his cousin and starts to get entangled in the strange feelings that this deranged, but at the same time enchanting, woman arouse on him.
David (Filipe Cary) sudah menikah, memiliki seorang putri dan hampir saja pindah ke Denmark bersama keluarganya untuk bekerja di sana. Akibat kematian kakeknya yang tiba-tiba, ia harus kembali ke kota kelahirannya untuk menghadiri pemakaman dan bertemu dengan keluarganya, yang telah lama ia jauhi. Perjalanan yang tadinya dimaksudkan hanya untuk menghadiri pemakaman, ternyata menjadi lebih lama, karena David bertemu istri misterius dari sang sepupu (Beatriz Batarda) dan mulai terjerat dalam perasaan aneh yang ditimbulkan oleh wanita ''gila'' tapi juga memikat tersebut.
SCHIMB VALUTAR
EXCHANGE
Romania.2008. Drama.100 Min. Romanian with English subtitles
Director: Nicolae Mãrgineanu
Casts: Cosmin Selesi, Aliona Munteanu
Synopsis:
In a small Romanian town, Emil, a worker is sacked when his plant is closed. As long as he and his family, his wife and son have nothing to survive, he decides to immigrate to Australia. Emil sells his flat and his car bought with the money they got as a gift from the guests to their wedding and they move to his in-laws. He gets to Bucharest, the capital city, to exchange the local currency into dollars at a bank. There he is approached by a guy who proposed a better rate exchange. Scared by the police the two make a quick exchange and the guy disappears. But the money is counterfeit... Emil tells his family he had made a deposit to the bank and that he left for Germany where he was offered an excellent job. His only guardian angel in the capital city is a very generous prostitute.
Di sebuah kota kecil di Romania, Emil, seorang pekerja sedih ketika pabrik tempat ia bekerja ditutup. Karena istri dan anaknya tidak memiliki apa-apa, ia berencana untuk berimigrasi ke Australia. Emil menjual tempat tinggal dan mobilnya yang dibeli dengan uang hadiah para tamu di resepsi pernikahan mereka. Mereka pun pindah ke rumah mertua. Emil pergi ke Bucharest, ibukota Romania, untuk menukar uang lokal dengan dollar di bank. Di sana ia didekati seorang laki-laki yang menawarkan nilai tukar lebih tinggi. Takut akan polisi, keduanya segera melakukan transaksi penukaran dan laki-laki itu kemudian menghilang. Namun ternyata uang yang ditukarkan itu adalah uang palsu. Emil bercerita pada keluarganya bahwa uangnya ia simpan di bank dan dia akan ke Jerman karena ia ditawari kerja yang bagus. Kini, malaikat pengawalnya di kota Bucharest adalah seorang pekerja seks murah hati.
DE STORM
THE STORM
The Netherlands.2009.Drama.100 Min.Dutch with English subtitles.
Director : Ben Sombogart
Casts : Sylvia Hoeks, Barry Atsma, Dirk Roofthooft
During a terrible storm, the dikes of Zeeland are breached in a hundred places, and Julia's farm is flooded. She is rescued by the young Aldo, but is nevertheless inconsolable. Her baby son was left behind in the water.
So begins a long search – against the flow of evacuees – into the submerged, surreal landscape of animal and human corpses. The chance of survival is microscopically small, yet Julia sees signs that her son is still alive. But where? And with whom?
Selama terjadi badai dahsyat, tanggul-tanggul di Zeeland jebol ke ratusan tempat, dan lahan pertanian Julia terendam banjir. Dia diselamatkan oleh Aldo, tetapi tidak cukup menolong. Bayi laki-lakinya hanyut didalam air.
Setelah pencarian yang panjang – melawan arus pengungsi - menyelam ke air, pemandangan yang menyeramkan dari mayat-mayat manusia dan binatang. Kesempatan untuk hidup adalah sangat kecil sekali, namun Julia memperlihatkan tanda-tanda bahwa anak laki-lakinya masih hidup. Tetapi dimana? Dan dengan siapa?
THE PLAYER
The Netherlands.2009.Documentary.85 Min. Dutch with English
Director : John Appel
A film about gambling, and about winning and losing, based on the director's memories of his father.
Synopsis:
A son's personal quest to find his father and an in-depth examination of the gambler's true soul. A search for the universal tragedy behind hardened risk-taking and the reality of how the tension and the ecstasy contrast with the pain and the loneliness. Focussing on three gamblers, a bookie, a poker player and a criminal roulette addict, Appel delves artistically into the mysterious mind of his father, who was not just a gambler, but a player of life.

Sebuah film yang bercerita tentang perjudian, dan tentang menang dan kalah, berdasarkan kenangan-kenangan sutradara terhadap ayahnya.
Sebuah pencarian pribadi untuk menemukan ayahnya dan sebuah pemeriksaan mendalam terhadap jiwa yang sesungguhnya dari seorang penjudi.
Sebuah pencarian untuk tragedi universal dibelakang pengambilan resiko yang kejam dan kenyataan bagaimana tegangan dan kegembiraan luar biasa yang berlawanan dengan rasa sakit dan kesepian.
Fokus pada tiga penjudi , seorang bandar, seorang pemain poker dan seorang kriminal pencandu rolét, Appel menyelidiki secara artistik kedalam pikiran misterius ayahnya, yang bukan saja seorang penjudi namun seorang pemain dalam kehidupan.
POKOJ V DUŠI
SOUL AT PEACE
Slovakia.2009.Drama.89 Min.Slovakian with English subtitles
Director: Vladimír Balko
Casts: Attila Mokos, Roman Luknár, Helena Krajčiová, Robert Więckiewicz
Synopsis:
Tono returns from prison, having spent the last five years there for stealing lumber. He returns to his home village of Čierny Hron to find that everything has changed: he is a stranger to his wife, he hardly knows his 5-year old son, and he cannot find a decent job because no one wants to hire a thief. But Tono does not want to earn his living by stealing, the way he used to. He even loses his close "buddy" Štefan, an influential local businessman with growing power in the region.
His childhood buddies - Marek the Catholic priest and successful businessman Peter - do their best to help Tono find his way back to normal life. Unfortunately, they have their own sources of problems and suffering - the problems of men over 40 - and have to cope when their image of life is confronted with the harshness of reality. Tono feels lonely and desperately looks for a way out of his problems.
Tono pulang dari penjara, setelah ditahan selama lima tahun karena mencuri kayu. Dia kembali ke kampung halamannya, Hron, hanya untuk melihat bahwa segalanya telah berubah: dia menjadi orang asing bagi istrinya, dia hampir tidak mengetahui anaknya yang telah berusia 5 tahun, dan dia tidak dapat menemukan pekerjaan yang layak karena tidak ada seorang pun yang mau mempekerjakan seoran gpencuri. Tetapi Tono tidak mau mencari uang dengan mencuri, seperti yang pernah dilakukannya dulu. Dia bahkan kehilangan teman dekatnya, Štefan, seorang pengusaha lokal yang berpengaruh dan semakin kuat di kampung tersebut.
Teman masa kecilnya –Marek, pastur Katolik dan Peter, seorang pengusaha yang sukses—melakukan segala hal untuk membantu Tono agar bisa kembali hidup normal. Namun, ternyata mereka sendiri memiliki persoalan masing-masing –persoalan laki-laki berusia di atas 40 tahun dan mereka pun harus menghadapi hidup yang penuh dengan kenyataan yang menyakitkan. Tono merasa kesepian dan sangat ingin mencari jalan keluar dari persoalan-perosalannya.
MATAHARIS
Spain.2007. Comedy.97 Min.Spanish with English subtitles
Synopsis:
Private detectives Inés, Eva and Carmen often invade others' privacy but are clueless about confronting their own secrets. While on the job, these three surveillance specialists will have to cross the thin line dividing public and private matters, bringing their own issues to light in order to solve more than just their professional cases.
Inés, Eva dan Carmen adalah detektif pribadi yang sering kali melanggar rahasia pribadi orang lain namun tidak sanggup menghadapi rahasia mereka sendiri. Dalam bekerja, ketiga ahli intai tersebut harus sanggup menghadapi perbedaan tipis antara kepentingan umum dan pribadi dengan cara mengatasi masalah pribadi mereka sendiri guna untuk menyelesaikan lebih dari hanya kasus profesional mereka.
SIETE MESAS DE BILLAR FRANCÉS
Spain.2007.Drama Comedy.116 Min. Spanish with English subtitles
Synopsis
Angela and her young son Guille travel to the big city to see Leo, her father and the boy's grandfather, when he suddenly takes ill. However, they arrive to discover that he has just passed away. Charo, the dead man's lover, explains the paternal business: a hall with seven billiard tables. Charo is convinced that the only way to pay off the debts is to sell the place. However, Angela learns that her husband has disappeared in mysterious circumstances. Given this painful reality, Angela resolves to get on and rebuild her life. And the first thing she decides to do is put her savings into getting the old place and its seven tables back up on their feet.
Ángela dan anaknya Guille membawa sang kakek, Leo, ke sebuah Rumah Sakit di Madrid karena sebuah penyakit yang datang tiba-tiba, namun mereka tidak dapat berbuat apa-apa untuk menyelamatkan nyawanya.
Di Rumah Sakit tersebut mereka berkenalan dengan Charo, kekasih dari mendiang kakek Leo, yang menceritakan bahwa bisnis yang dijalankan Leo tidak menghasilkan keuntungan. Ia memiliki sebuah ruang permainan dengan 7 meja billiar Perancis.
OSTINDIEFARAREN:TILL KINA &HEM IGEN
THE EAST INDIAMAN –TO CHINA AND HOME AGAIN
Sweden.2008.Documentary.99 Min.Swedish with English subtitles
Director: Kalle Thorslund, Roland Hedlund, Lars Englund
Synopsis:
A documentary chronicling life aboard the East Indiaman Götheborg during its adventurous journey from 2005 to 2007. From Göteborg, by way of Brasil, South Africa and Australia, to China - and then back again!
Sebuah dokumenter yang mengisahkan kehidupan di kapal East Indiaman Götheborg selama perjalan penuh petualangan dari tahun 2005 hingga 2007. Dari Göteborg, melewati Brasil, Afrika Seladan dan Australia, hingga China – dan kembali lagi.
JALLA! JALLA!
Sweden.2000. Comedy.88 Min.Swedish/Arabic with English subtitles
Director: Josef Fares
Casts: Josef Fares, Torkel Petersson, Tuva Novotny
Synopsis:
Måns and Roro work as park attendants. Nevertheless, they still think they are cool and awesome. The days calmly pass by until Måns suddenly can't get an erection anymore and Roro only has one week to avoid being married off.
Måns dan Roro bekerja sebagai penjaga taman. Meski demikian, mereka masih menganggap diri mereka sendiri keren dan hebat. Hari-hari berjalan dengan tenang hingga Måns tiba-tiba tidak bisa ereksi dan Roro hanya memiliki satu minggu untuk bisa menghindari kawin paksa dari orang tuanya.
BRIDESHEAD REVISITED
UK.2007.Drama.133.English
Director: Julian Jarrold
Cast: Emma Thompson, Ben Whishaw, Matthew Goode, Hayley Atwell, Michael Gambon
Synopsis:
The story of forbidden love and the loss of innocence set in a golden age pre-Second World War when privileged aristocracy was falling into decline. At Oxford University in 1925, Charles Ryder (Matthew Goode, Match Point, The Lookout) is befriended by the flamboyant and self-destructive Sebastian Flyte (Ben Whishaw, Perfume: The Story of a Murderer), son of Lord and Lady Marchmain (Michael Gambon and Academy Award-winner Emma Thompson). Charles, the middle-class student and outsider, is quickly seduced by his friend's opulent and glamorous world at 'Brideshead' -- the Marchmain's magnificent ancestral home. Dazzled by his surroundings, Charles becomes infatuated with Sebastian's beautiful sister but as his emotional entanglements to the young Marchmains grow Charles finds himself increasingly in conflict with the family's tragic and abiding faith in their religion and fading upper-class ideals.
"Elegantly mounted and well-acted," wrote Roger Ebert in the Chicago Sun-Times. Brideshead Revisited is a gorgeously evocative romantic epic shot wholly on location in Oxford, Yorkshire, Venice, and Morroco.
Sebuah kisah tentang cinta terlarang dan hilangnya kepolosan dalam era keemasan menjelang Perang Dunia ke-II, seiring dengan semakin memudarnya wibawa kaum aristokrat.
Tahun 1925, di Universitas Oxford, Charles Ryder (Matthew Goode, Match Point, The Lookout) berteman dengan Sebastian Flyte (Ben Whishaw, Perfume: The Story of a Murderer), sosok flamboyan dan tragis yang merupakan putra bangsawan Marchmain (Michael Gambon dan peraih penghargaan Academy Award, Emma Thompson). Sebagai "orang luar", Charles yang berasal dari kelas menengah dibuat terpesona oleh kemegahan dan kegemerlapan istana keluarga Marchmain di Brideshead. Charles pun jatuh cinta pada Julia, kakak Sebastian yang cantik. Namun, hubungannya yang semakin mendalam dengan putra-putri Marchmain menghadapkannya pada kekakuan keluarga bangsawan tersebut -- yang bersumber pada kekukuhan mereka terhadap kepercayaan dan cita-cita kaum atas.
"Dibuat dengan indah dan diperankan dengan baik," tulis Roger Ebert di Chicago Sun-Times;
Brideshead Revisited merupakan film epik nan romantis yang sepenuhnya diproduksi di tempat di Oxford, Yorkshire, Venisia, dan Maroko.
DIE STANDESBEAMTIN
WILL YOU MARRY US?
Switzerland.2009. Romantic comedy.90 Min. Swiss-German with English subtitles
Director: Micha Lewinsky
Casts: Marie Leuenberger, Dominique Jann
Synopsis :
Rahel Hubli is employed as a civil registrar. She hasn't believed in the so-called "love of her life" in ages. But when an old friend, Ben, suddenly turns up, Rahel recalls again what it felt like to be in love. And that leads to even more problems, because Rahel is already married. And Ben would like to get married: by Rahel.
Rahel Hubli adalah seorang pegawai catatan sipil. Ia tidak pernah percaya apa yang disebut cinta sejati sejak lama. Namun ketika teman lamanya Ben tiba-tiba muncul, Rahel teringat kembali bagaimana rasanya jatuh cinta. Hal ini malah menimbulkan masalah sebab Rahel telah menikah dan Ben akan dinikahkan oleh Rahel.
BÖDÄLA – DANCE THE RHYTHM
Switzerland.2009. Documentary.80 Min. Swiss-German with English subtitles
Director : Gitta Gsell
Casts :
A fast-paced film about people whose feet are their primitive and powerful instrument of artistic expression. Beginning with "bödele" in Central Switzerland, this film journeys from tap dance and flamenco to Irish dance. The rhythmic stamping of the shoes is reminiscent of ethnic ritualistic folk dances. Evolving from the "dances of the folk" are show and competition dance. The film provides insight into passionate dancers and people who express joy, desire and sadness through rhythm with their feet.
Film dokumenter ini menampilkan individu-individu yang mengandalkan kaki sebagai instrument yang primitif dan kuat dalam menciptakan ekspresi seni. Dimulai dengan seni "Bödele" dari daerah Swiss bagian tengah, film ini menelusuri berbagai seni tari dari tap dance dan flamenco hingga tarian tradisional Irlandia. Hentakan ritmis sepatu mengingatkan akan tarian rakyat bernuansa etnik ritual. Berawal dari tarian-tarian rakyat, berkembang pertunjukkan dan kompetisi tari. Film ini menyajikan gambaran mendalam mengenai para penari yang sangat menghayati bidangnya dan orang-orang yang mengekspresi kebahagian, hasrat dan kesedihan dengan ritme hentakan kakinya.
GÜZ SANCIS
PAINS OF AUTUMN
Turkey. 2009.Drama.112 Min. Turkish with English subtitles
Director: Tomris Giritlioglu
Casts : Murat Yildirim, Okan Yalabik, Beren Saat, Belçim Bilgin
This Turkish drama is a sweeping epic about a Romeo-and-Juliet-like romance set against the historical backdrop of the Istanbul riots of September 1955, when the city launched a notorious pogrom against its large Greek population. Adapted by director Tomris Giritlioglu from a novel by Yilmaz Karakoyu, the tragic story centers around Turkish nationalist Behcet, who finds his extremist views tested when he falls in love with a Greek prostitute named Elena.
Film drama ini merupakan sebuah epik besar tentang kisah cinta bak Romeo-Juliet yang terjadi saat peristiwa bersejarah kerusuhan Istanbul pada bulan September 1955, ketika pemerintah kota melakukan pembantaian besar-besaran terhadap penduduk keturunan Yunani. Diadaptasi dari novel karya Yilmaz Karakoyu, cerita tragis ini berpusat pada anggota kelompok nasionalis Turki, Behcet, yang pandangan ekstrimnya diuji ketika dia jatuh cinta dengan seorang pelacur Yunani bernama Elena.
18+
PATHS OF GLORY
BORNOVA BORNOVA
Director: Inan Temelkuran
Cast: Kadir Cermik, Oner Erkan, Damla Sonmez, Erkan Bektas
Synopsis:
BORNOVA BORNOVA is set at a time when dreams have dwindled and sanity is hard to hold on to. Even the prospect of a regular routine life now holds great promise.
Salih and Hakan who spend their entire time outside the local grocery store hoping to get lucky one day, are like brothers. Hakan is just back from military service and the football career he longed for was over before it even began because of injury, leaving him with neither skills nor a job. His hope is to become a taxi driver. Salih, the local psychopath, is the only person who listens to Hakan, the only person to give him advice. Although he comes from a good family, and well-educated one at that, Salih is mixed up in all manner of unlawful activity in the neighborhood. Everyone's scared of him. Even the high school girl Ozlem, the girl Hakan is crazy about although he has never dared to speak to her. Salih's childhood friend Murat is a postgraduate philosophy student, who earns a living writing erotic fantasies. One day, he tells Hakan about an incident between Salih and Ozlem that inspired one of his erotic fantasies. But as it turns out, nothing is like what Murat told him...
BORNOVA BORNOVA mengambil setting kala mimpi-mimpi berkelindan. Sangat sulit mengandalkan kewarasan. Bahkan prospek hidup rutin yang biasa-biasa saja membawa harapan besar. Salih dan Hakan yang banyak menghabiskan waktu mereka di depan toko kelontong berharap akan mendapatkan keberuntungan suatu hari, seperti juga saudara-saudara laki-laki mereka. Hakan baru saja kembali dari wajib militer. Karir sepakbola yang telah lama ia rindukan, telah pupus bahkan sebelum dimulai karena cidera yang membuatnya tak punya pekerjaan dan ketrampilan apa pun. Harapannya adalah menjadi sopir taksi. Salih, seorang psikopat lokal, adalah satu-satunya orang yang mendengarkan Hakan. Ia satu-satunya orang yang memberinya nasehat. Meski dia berasal dari keluarga mampu dan berpendidikan baik, Salih bertingkah sembrono dan melawan hukum di lingkungan tetangga. Semua orang takut padanya, bahkan Ozlem, siswi SMA, seorang gadis yang sangat digilai Hakan namun ia tak pernah berani bicara dengannya. Teman lama Salih, Murat adalah mahasiswa pasca-sarjana di juruan filsafat yang mendapatkan uang dengan menulis cerita-cerita fantasi erotis. Suatu hari, dia bercerita pada Hakan tentang insiden yang terjadi di antara Salih dan Ozlem yang mengilhami salah satu cerita fantasi erotisnya. Tetapi ternyata, tak satu pun yang seperti Murat ceritakan padanya…..
2009 – Best Actor, Best Actress, Best Editing, SIYAD-Turkish Film Critics National Prize – Antalya Golden Orange Film Festival, Turkey
15+
LIFE LESSONS
BAŞKA DILDE AŞK
LOVE IN ANOTHER LANGUAGE
Turkey. 2009.Drama.92Min. Turkish with English subtitles
Director: Ílksen Başarir
Cast: Saadet Işil Aksoy, Lale Mansur, Mert Firat
Onur, who has been deaf since birth, works as a librarian. His father had left him and his mother when he was seven, and Onur has always blamed himself for this. Although being able to speak, he has chosen to stay silent because of the pitying looks of the people around him. At his friend Vedat's engagement party, he meets Zeynep, who later finds out about Onur's hearing disability, but is not bothered by it. She is forced by her overbearing father to leave home and gets a job at a call-center. Having to speak on the phone all day to people she doesn't know, Zeynep finds peace with Onur, who she communicates with perfectly without speaking...
Onur yang telah tuli sejak lahir, bekerja sebagai pustakawan. Ayahnya telah meninggalkan dia dan ibunya sejak dia berusia tujuh tahun, dan Onur selalu menyalahkan dirinya-sendiri karena masalah ini. Meski bisa berbicara, dia memilih untuk tidak bicara karena pandangan kasihan dari orang-orang di sekitarnya. Di pesta pertunangan temannya, Vedat, dia bertemu Zeynep, yang kelak ketika dia tahu gangguan pendengaran yang diderita Onur, tidak mempermasalahkannya. Dia dipaksa oleh ayahnya yang cerewet untuk meninggalkan rumah dan mendapatkan kerja di call-center. Harus berbicara dengan orang yang tak dikenalnya di telepon sepanjang hari, Zeynep menemukan kedamaian bersama Onur. Dengan Onur, ia mampu berkomunikasi dengannya tanpa bicara….
EUROPEAN BEST SHORTS SYNOPSIS
THE PHONE IS OFF THE HOOK
Austria.2009. Short fiction.8 min.German with English subtitles
Director: Flora Frisardi and Georg Svatek
Cast: Flora Frisardi and Fabian Haslinger
A young woman and a young man meet at a train station, when suddenly the man disappears (in a passing train?) . The woman then embarks on a journey (of dreams?) looking for him, crossing not only the railways, but into a new reality of dreams and images, where playing cards with messages like "Begin at the beginning and go on until you come to the end" should show her the right way. Will the puzzle of cards and her affection lead her astray or is her journeys already part of the destination, finding her destiny?
Seorang perempuan dan laki-laki muda bertemu di stasiun kereta, ketika tiba-tiba sang laki-laki menghilang ( di dalam kereta yang lewat?). Sang perempuan kemudian berangkat dalam perjalanan (mimpi?) untuk mencari sang laki-laki, melewati bukan hanya rel kereta, tapi juga kenyataan baru:mimpi-mimpi dan citraan-citraan, di mana memainkan kartu dengan pesan sperti ini " Memulai sebuah permulaan dan terus hingga kamu sampai di penghabisan" akan menunjukkan jalan yang benar. Apakah teka-teki kartu dan perasaan cintanya sia-sia atau apakah perjalannya telah menjadi bagian dari tujuan, mencari takdirnya?
SOIna (SPECIAL OLYMPICS INDONESIA)
The Netherlands/Indonesian. 25 Min. 2009. Indonesian with English subtitle
Director: Anom Bayu S.
Cast: Aswin Nugroho, Nurin Nadziroh
Synopsis:
A 25-minutes documentary made for the organization SOINA (Special Olympics Indonesia). In November 2008, SOINA held their annual national games in Jakarta. Participants come from all over Indonesia, two of them are Aswin and Nadziroh. We follow their struggle, their journey to the game, and to victory.
Dokumenter 25 menit dibuat oleh organisasi Soina. Pada